Fishlake Mermaid

For several years some friends and I have gone to a beautiful alpine lake to do some camping, scuba diving, and to get away. Fishlake is nine thousand feet high in the Fishlake National Forest in central Utah. The water is cold, but clear (most of the time). We have a great time eating, diving, eating, camping, eating, getting rained on, and eating.
After our dives I asked my buddies if they saw the mermaid. I told them I made a date with her and was going to meet her that night for a candlelight dinner. This went on several times over the years. It became a good joke among our group.
On one of our recent trips Rod, Paul, and I took off on a dive. We settled to the bottom, at a depth of about twenty feet, near the lake grass. I looked over at Rod and thought I could see a smirk on his face. Now, it is difficult to see a smirk on a diver's face because the hood, mask, and regulator don't leave much of a face to see. Rod brought his hand out from behind his back and handed me a Barbie Mermaid Doll. I started laughing so hard I almost lost the regulator out of my mouth. Rod took my picture holding the mermaid. After having my picture taken I noticed my camera lanyard had became tangled around my regulator hose. While untangling them I let go of my "mermaid" and she floated off.
Since this trip I have looked for my mermaid, without any luck. Maybe if you are lucky, you will see my mermaid in Fishlake. (If you do I would like her returned please.)
I am hoping to someday find a real mermaid. It doesn't matter if she is a freshwater mermaid or a saltwater mermaid. Any mermaid will do. We could go diving together and live happily ever after.
My mermaid and I in Fishlake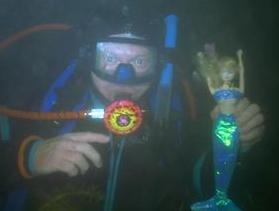 Photo Rod Turner
***NOTE: My wife as of August 28, 1997, thinks my story is misleading now that I am married. Especially since occasionally I receive e-mails from "mermaids" looking for a merman. In order not to mislead anyone and to make my wife happy, I have found my mermaid! (A real one.)***

[ Certifications | Credit Card Payment | Scuba Diving Information | Fun Diving Stuff | Photographs | Diving Links | Mermaid Images | Contact Information | Mermaid Scuba Merchandise | Blue Lizard Australian Sunscreen | Beaver-43 Sunblock | Bonica U/W Cameras ]

lynn@mermaidscuba.com