Beaver-43 Sunscreen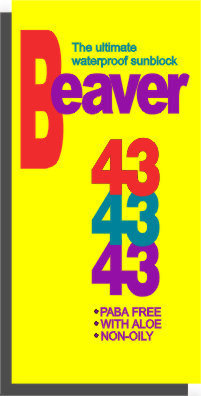 Sorry, I no longer have Beaver 43 in stock. I have tried to contact the manufacturer to order more product without any luck. Thank you for your support.
Shipping costs if sending a check or money order. Will ship after the check clears the bank.
Number of tubes
Shipping cost
1 - 2
$6.00
3 - 4
$7.00
5 - 9
$9.00
10 - 11
$12.50
12 - +
Free!
Didn't expect my biggest find at the DEMA convention in 2000, held in Las Vegas to be sunscreen. I purchased a tube of Beaver-43 and now do not want to use anything else. I am a red-head with very light skin, so I have used many sunscreens over the years. For the most part, they have all worked. The greasiest ones worked the best, however I have dreamed of finding a sunscreen that works and is not greasy feeling. Beaver-43 will last all day, be waterproof, and not break down and run in your eyes. The only complaint, if you want to call it that, is from a friend of mine that took a tube on a cruise. He said it didn't feel like he was wearing any sunscreen and he was worried about being protected.
The following is the description by Whetsone Labs, manufacturer of the sunscreen. Beaver-43 is paba free, contains aloe, and is non-oily. It will: give you full UV-A and UV-B protection, stay on all day, even in salt water, provides SPF of 30+, remove easily with soap and water. It will not: sting your eyes or taste bad on your lips, leave a greasy film on skin or equipment, clog pores.
Beaver-43 is very concentrated and will go a long way. Only a small amount is required.
Beaver-43 sunscreen has a quote on the tube from Dr. Otto Beaver: "You are holding a unique new sunblock formulated for outdoor athletes engaged in continuous activity where reapplication would be difficult or impossible."
Give Beaver-43 a try, you will like it.
From the manufacturer:
A Special Note About a Special Product
This unique formula is very concentrated. Unlike the hand-cream looking sun protection products (which may contain 60-80% water), Beaver-43 contains NO WATER. Thus much less can be used and you will still get full protection. Cool weather note: This formula is designed to spread at skin temperature; keep in inside pocket during cold weather activities.
Guideline for application: If you feel any slipperiness you are using too much! Go thinner. An adequate application will give you a dry, velvety feeling.
It may sound strange for a manufacturer to recommend less use of its product, but we believe giving our customers the best value in all-day UV-A and UV-B protection will pay off-for you and for us.

[ Certifications | Credit Card Payment | Scuba Diving Information | Fun Diving Stuff | Photographs | Diving Links | Mermaid Images | Contact Information | Mermaid Scuba Merchandise | Blue Lizard Australian Sunscreen | Beaver-43 Sunblock | Bonica U/W Cameras ]

lynn@mermaidscuba.com